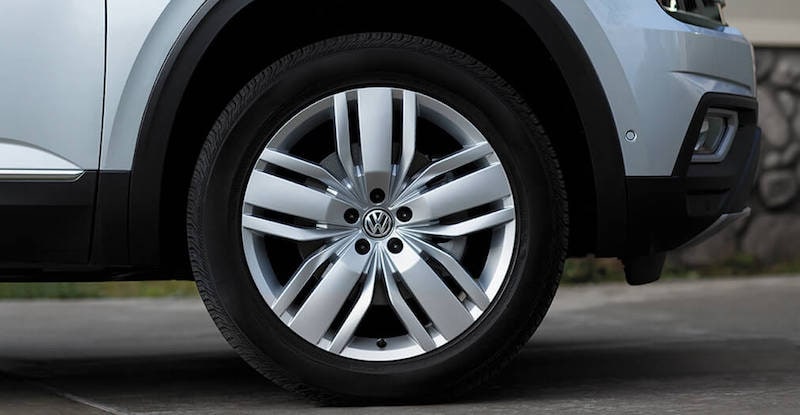 Every car deserves to drive on a set of fresh, reliable tires. So if your Volkswagen's treads are looking a little bit worn down, do the old penny trick: Put a penny pointed straight down against the tire between the treads, and if you can see all of Abe Lincoln's head, it's time for new tires.
But once you've identified the problem, you've got to know what tires to get. There's a few ways to find out. The size is usually a combination of numbers with a letter or two and a "/" thrown in, like, for example, the tire size for a new 2019 Volkswagen Jetta SEL Premium: 205/55R17.
That number will be printed on the side of the tire itself, and also on a decal inside the driver side door frame, where you'll also find recommended tire pressure levels.
It's important to know your precise model, however, down to the trim level and any options. Different vehicle trims offer different wheel sizes for looks and performance, so the 2019 Atlas 2.0T will call for a completely different set of tires than a 2019 Atlas SEL with available 20" rims. Make sure you have all that information together when shopping for or ordering new tires.
New Volkswagen Tires for Sale Near Bowling Green
At our Bowling Green area Volkswagen service center, we're proud to sell excellent VW replacement tires for all of the brand's models. So whether your 2019 Volkswagen GTI S is calling out for a new set of 225/40R18's or your Tiguan SEL Premium 4MOTION is in desperate need of a 235/50R19 upgrade, we've got you covered--and our expert service staff is here to install them. We also offer great, timely Volkswagen tire specials to help you get the best deal possible.
So if your tires are looking a little tired, don't hesitate to pay us a visit. We've got what you need to keep you safe and riding smoothly, wherever you may go.